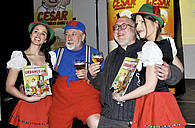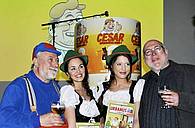 Cesar Tripel een bier van 8,5%. "De Cesar Tripel is mooi blond en smaakt koppig en vol met een uitstekende zoet-bitterbalans. Zijn aangename geur en mooie schuimkraag maken van dit bier een topper in zijn soort."
Het wordt aanbevolen als dessert of als aperitief en het is ook geschikt bij mosselen, andere zeevruchten, kaasschotels of net zo goed een pak frieten. Santé
Het bier van 8,5% is geen eenmalige belevenis. Het moet een permanent en overal verkrijgbaar bier worden.
Willy Linthout tekende niet alleen het etiket, maar ook de zes verschillende kroonkurken en bierviltjes, (met Cesar, Eufrazie, juffrouw Pussy, Nabuko Donosor, Amedee, nonkel Filemon en uiteraard Urbanus), het speciale Cesar-glas, de bierbak met Cesar-opdruk en crate-cover, de kartonnen verpakking voor een sixpack bierflesjes en de tafelruiter.
Van die laatste alleen al zijn er tienduizend gemaakt om op de tafels in cafés te zetten. Van de kroonkurken zijn er al niet minder dan 360.000 gefabriceerd. Verzamelaars zullen we volgende maand dus vooral op café aantreffen.